Online Experiences
UPCOMING ONLINE EXPERIENCES
Valentine's Day Online Tasting Experience
Show your love and appreciation with this one-of-a-kind Valentine's Experience! Join our Ethel M Chocolates Valentine's Day Eve Online Tasting for Two via Zoom on whatever day works best with your schedule!
Friday, February 11th at 5pm PT/8pm ET
Monday, February 14th at 2pm PT/5pm ET
Monday, February 14th at 5pm PT/8pm ET
This experience includes a custom assortment of 14 pieces selected by our Chief Chocolatier, Mark Mackey, in our signature satin heart box. The tasting experience will feature our Milk Chocolate Peanut Butter Heart, Dark Chocolate Sea Salt Caramel, Pecan Toffee Crisp, Dark Chocolate Truffle, and Dark Chocolate Lemon Satin Crème Heart. You will also receive four bonus pieces not covered in the tasting for your enjoyment. In addition we'll be sharing some exclusive wine and beer pairing recommendations from Mark to enhance the tasting further! This tasting is priced at $50 and must be purchased by Sunday, February 6th. Spaces are limited!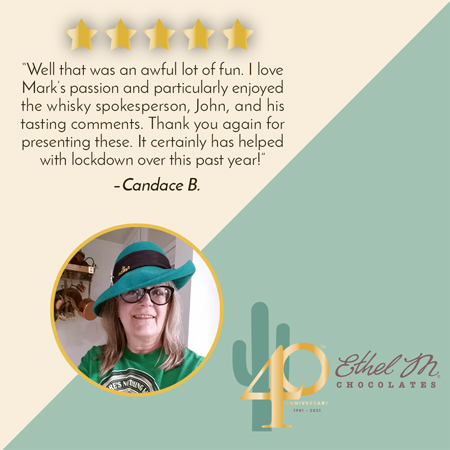 PAST EXPERIENCES
New Year's Eve Online Tasting Experience | December 31st, 2021
Cactus Lights & Creamy Bites Holiday Garden Lighting Online Tasting Experience | November 5th, 2021
Ethel M Reserve Limited Edition Single Origin Dark Chocolate Bars Online Tasting Experience | October 9th, 2021
Father's Day Chocolate & Beer Tasting Experience | June 26th, 2021
Mother's Day Virtual Tasting for Two | May 15th, 2021
Spring Chocolate Tasting & Flower Arranging Experience | April 17th, 2021
St. Patrick's Day Virtual Tasting for Two | March 17th, 2021
Valentine's Day Virtual Tasting for Two | February 13th & 14th, 2021
Tailgate Virtual Tasting for Two | January 30, 2021
New Year's Eve Virtual Tasting | December 31st, 2020
Holiday Virtual Tasting | December 5th, 2020
VIP Holiday Lighting Virtual Chocolate Tasting | November 6, 2020
Halloween Chocolate Bar Virtual Chocolate Tasting | October 24, 2020
Halloween Happy Hour Virtual Chocolate Tasting | October 17, 2020
Classic Virtual Chocolate Tasting | September 17, 2020
Labor Day Virtual Chocolate Tasting | September 3, 2020
Back To School Virtual Chocolate Tasting | August 20, 2020
International Beer Virtual Chocolate Tasting | August 6, 2020
Classic Virtual Chocolate Tasting | July 23, 2020
School's Out for Summer Virtual Chocolate Tasting | July 9, 2020
Independence Day Virtual Chocolate Tasting | July 2, 2020
Father's Day Virtual Chocolate Tasting | June 19, 2020
Dark Chocolate Virtual Chocolate Tasting | June 5, 2020
Satin Creme Virtual Tasting | May 22, 2020
Cinco de Mayo Virtual Tasting | May 5, 2020
First Ever Virtual Tasting | April 17, 2020