12 Gifts of Christmas
The Ethel M Holiday Gift Guide
"On the first day of Christmas my true love sent to me: An Ethel M chocolate treat." Just like that famous Christmas carol, Ethel M has compiled a list of 12 grand gifts that will please all of the chocolate lovers in your life. This gift list will be your go-to guide for all your gift-giving needs.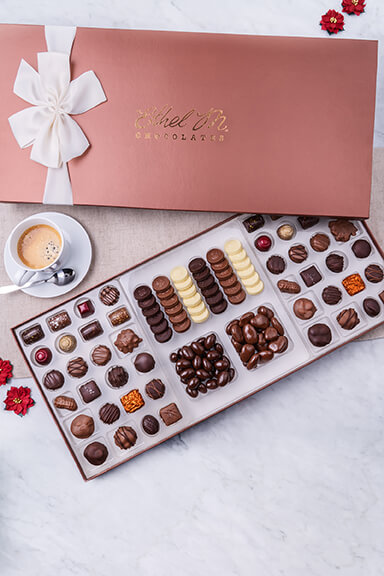 #1 – The Centerpiece Collection (80 piece)
Joy to the world and joy to you if you unwrap this gorgeous, copper foil box filled with an assortment of fresh-crafted Ethel M favorites. The collection serves 25-30 people so gift it to the holiday party host or your loved one who LOVES confections.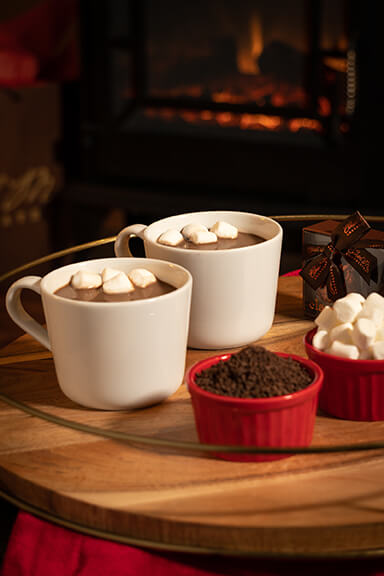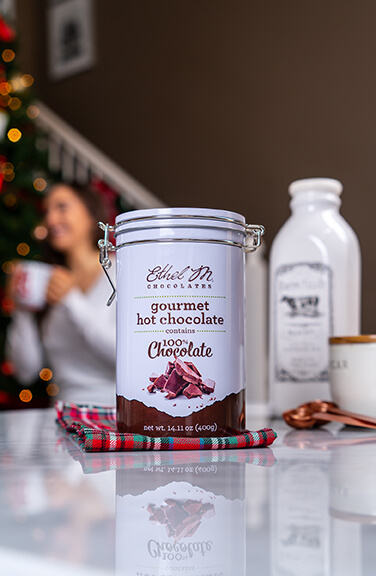 #2 – Gourmet Hot Chocolate Tin
An affordable option, this signature mix of chocolate shavings is perfect for warming up by the fire. Made with real chocolate shavings, this gift will please the coffee lover who can whip up a nice mocha or pair it with the festive Peppermint Bark to gift to a family of four.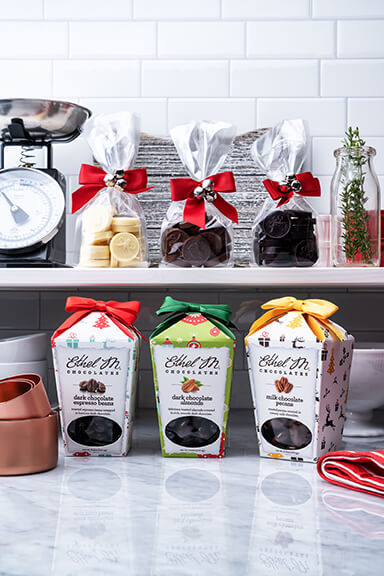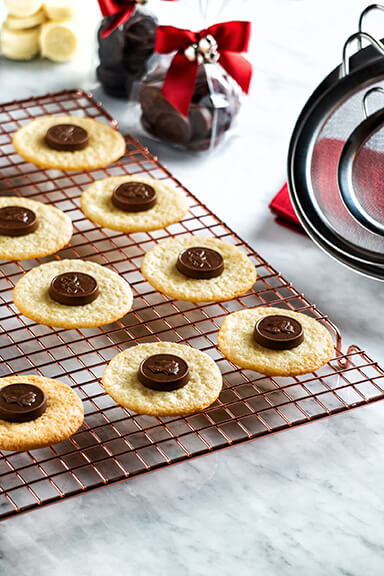 #3 – Gourmet Chocolate Coins
The DYO collection adds a personal touch that everyone on your list will love. Choose from six boxes and hand-pick their favorite chocolate pieces. They're a fan of the Lemon Satin Crèmes? No problem, just fill the entire box. Not sure what they like? Mix it up with milk, dark, satin crèmes, truffles, and much more.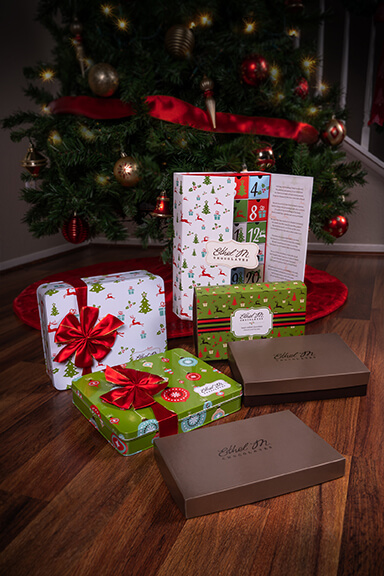 #4 – Design-Your-Own (DYO) Collection
Put a delicious surprise in the stocking of someone this season with these premium milk, dark, and white chocolate coins. Pair it with your batch of cookies and gift it to your friends, colleagues, or kids for a holiday treat.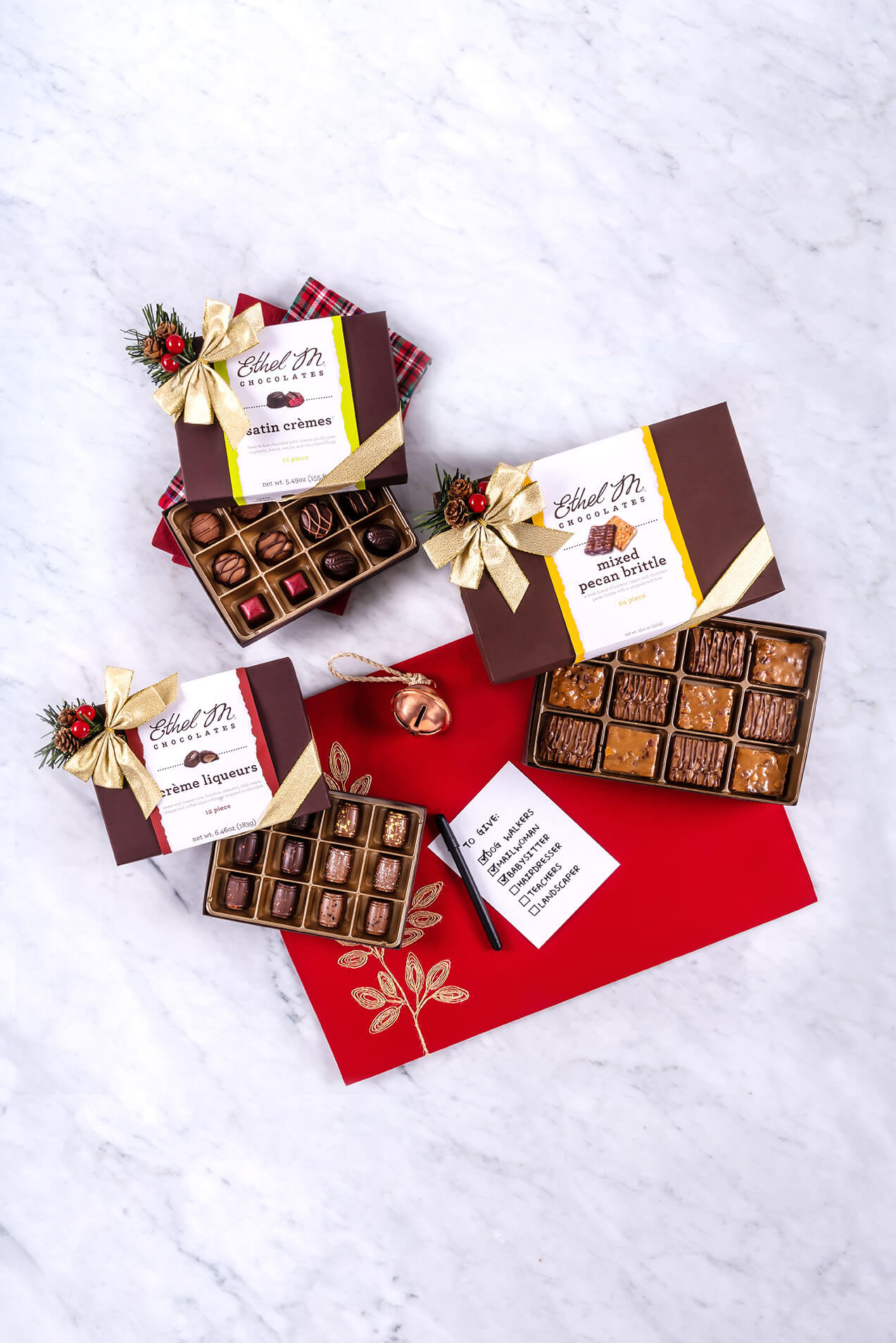 #5 – Chocolate Covered Pecan Brittle
This coveted collection includes the very best, small batch pecan brittle, drizzled with ribbons of gourmet milk chocolate. And every bite is better than the last. One of our most popular flavors, this gift is great for your neighbor, mother-in-law, or beer connoisseur (brittle and beer, don't mind if we do).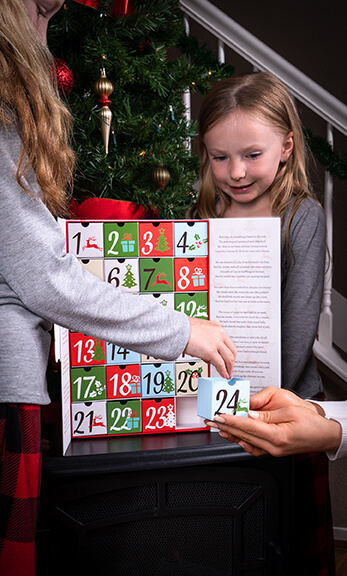 #6 – Collectible Advent Calendar (24 piece)
This chocolate-lovers dream is filled with savory flavors and includes the classic tale of, "The Night Before Christmas." The advent calendar is a delightful gift for families with little ones who will have a memorable, sweet countdown.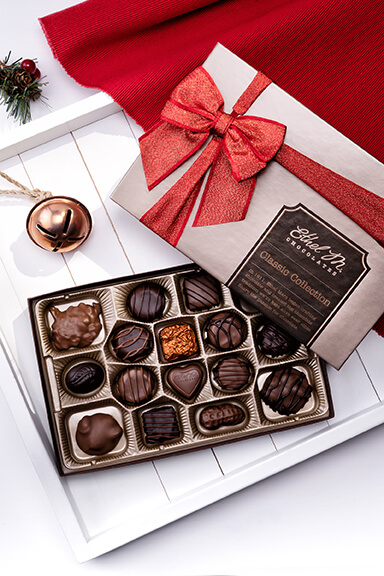 #7 – Holiday Classic Collection (16 piece)
A signature and timeless gift, the Classic Collection features 16 of Ethel M's original pieces from 1981. Being the most popular collection, we recommend giving this to your neighbors, babysitter, aunts, and anyone who just wants a taste of everything Ethel M.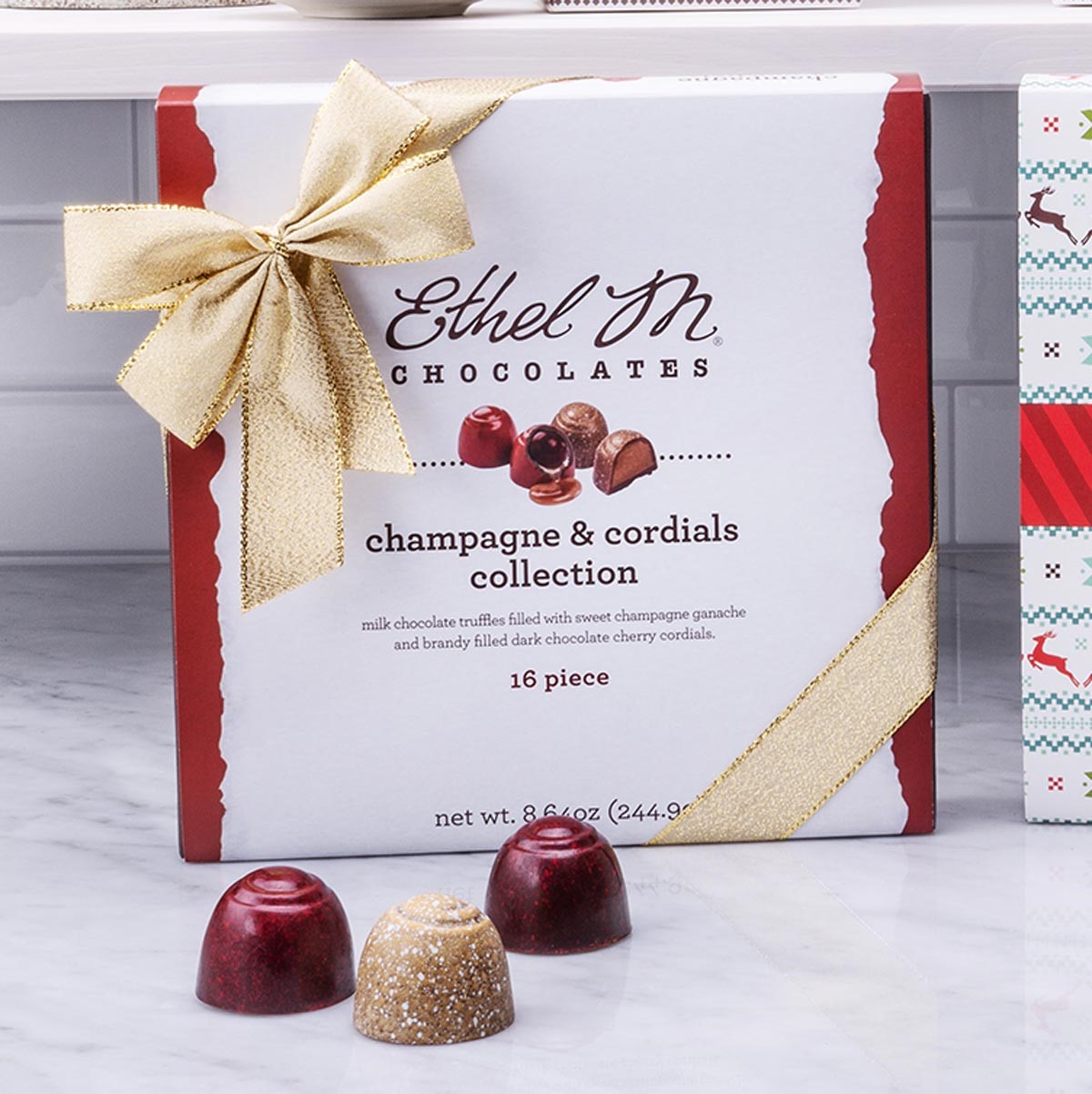 #8 – Champagne & Cordials Collection
The perfect treat for toasting to the holidays, these delicious chocolates are filled with real cherries and real champagne. Gift these to the friend or family member who loves to celebrate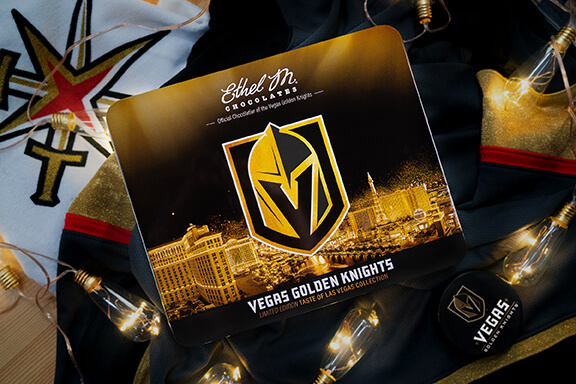 #9 – Collectible Vegas Golden Knights Tin (16 piece)
This exclusive offering honors the historic team and is packed with classic flavors that will meet your "goal" for giving the perfect gift. This limited-edition tin designed by Ethel M, Vegas Golden Knight's Official Chocolatier, will have all fans cheering.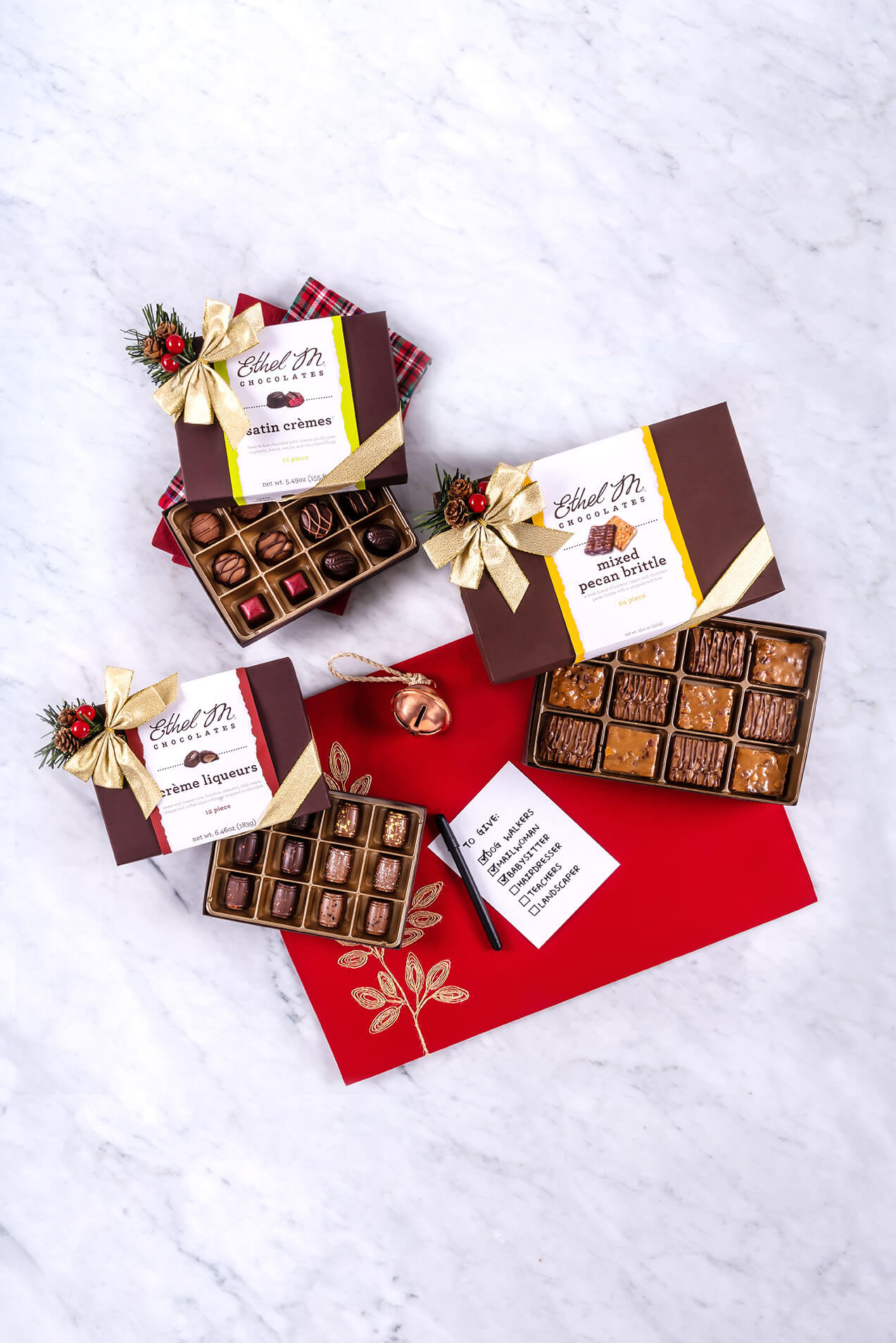 #10 – Holiday Crème Liqueurs (12 piece)
Perfect for those on your list who love both chocolate and liquors. Creamy rum, bourbon, and Irish cream flavors run through these sweet and decorative delights. Be sure not to eat too many – you may feel too much holiday cheer.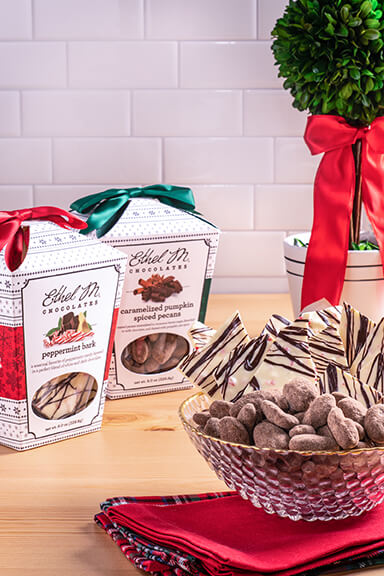 #11 – Caramelized Pumpkin Spiced Pecans
Brand new for the 2018 holiday season, these small, bite-sized treasures are bursting with chocolate and pumpkin spice flavors. Know someone who loves Pumpkin Spiced Lattes? They'll also love these.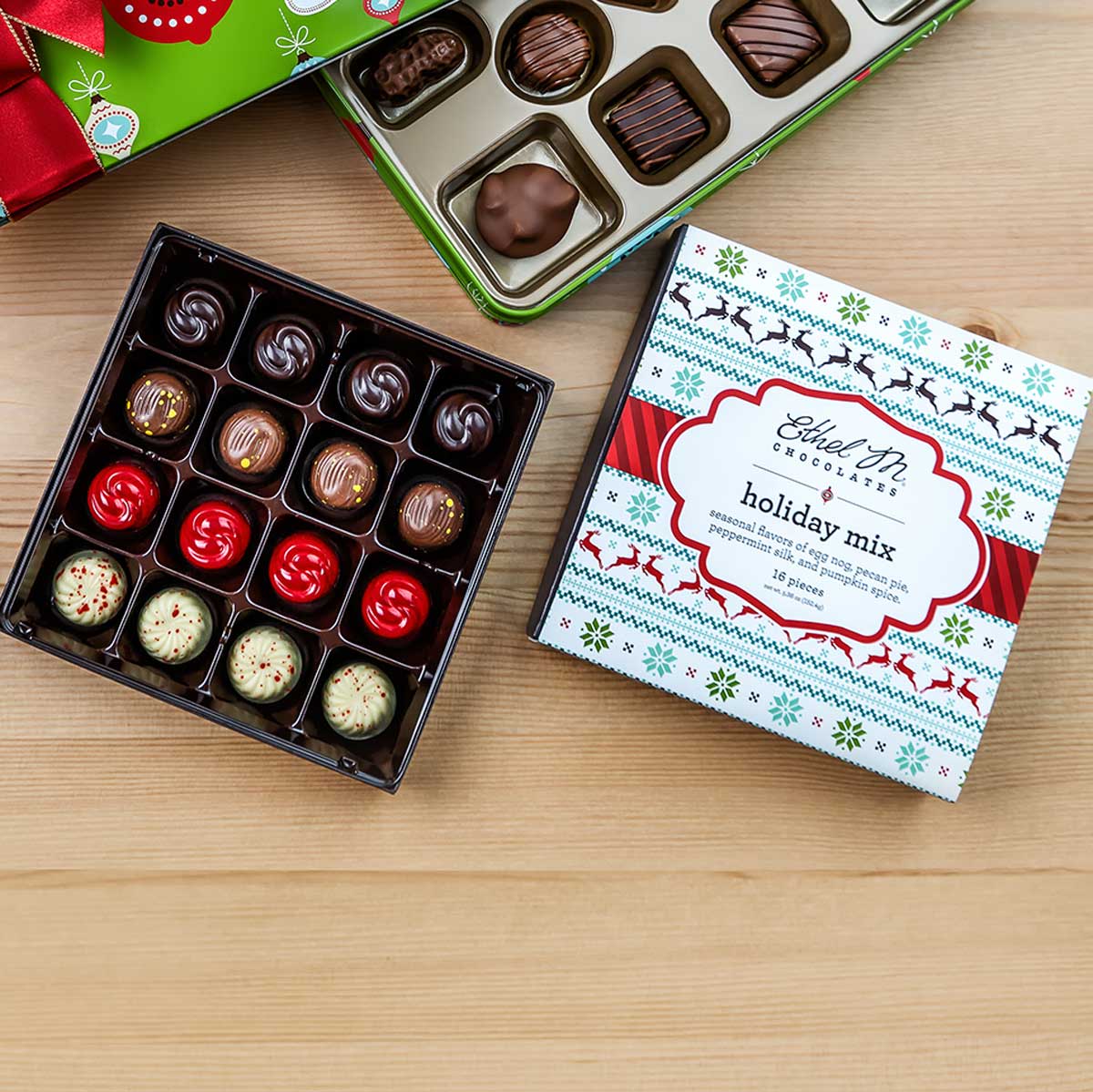 #12 – Holiday Mix Collection (16 piece)
Inspired by the holidays, this eclectic collection of delectable treats is a festive and tasty gift for teachers, landscapers, parents, friends- basically everyone on your list.
Now that you've experienced the "12 Gifts with Ethel M" get ready to cross off everyone on your list. And if you're still not sure, our friendly chocolatiers are available via chat, phone, or in-store to help you find your perfect gift.